From:
Merco Press
Published
June 1, 2009 09:52 AM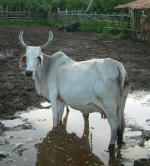 Boots and training shoes are not the first things that spring to mind when you think about the causes of rainforest destruction and climate change, but just because the connection isn't obvious doesn't mean it isn't realm, says Greenpeace in a new report, "Slaughtering the Amazon".
But it's not only shoes. Products as diverse as handbags and ready meals, and companies as big as Tesco, BMW, IKEA and Kraft also rely on Amazon leather. Practically all Western world consumers have some by-product of Amazon destruction in our homes somewhere, whether we like it or not. Effectively, these brands are driving this destruction by buying beef and leather products from unscrupulous suppliers in Brazil points out the Greenpeace report.
The report says the cattle industry is the single biggest cause of deforestation in the world as trees are cleared to make way for ranches. And the Brazilian government is also fuelling the process by offering billions of dollars in loans to support the expansion of the cattle industry. President Lula de Silva has pledged to double his country's share of the global beef market by 2018. The report contrasts these investments with Lula da Silva's recent promise to cut deforestation by 72% by the same date and to set up an international fund for protecting the Amazon.